FTC instructs AdvoCare to pay $150 million fine and dismantle it's MLM structure
Are you thinking about joining a multi-level marketing business to earn extra money? Before investing your hard-earned cash, make sure you're not dealing with a pyramid scheme – a scam that can cost you dearly.
Today, the FTC announced a case against Texas-based AdvoCare International, a multi-level marketer of energy drinks, shakes, and supplements. AdvoCare claimed people could earn unlimited income, quit their day jobs, and gain financial freedom by selling its products and recruiting other people to sell them too.
The company used endorsements from professional athletes, sponsorship of professional sporting events, conferences, podcasts, and more to pitch what it called a life-changing business opportunity. The FTC calls it a pyramid scheme and says AdvoCare swindled hundreds of thousands of consumers.
According to the FTC, people paid AdvoCare thousands of dollars to become "distributors," buy inventory, and become eligible for cash bonuses and other rewards. But, the FTC says, AdvoCare rewarded distributors not for selling product but for recruiting other distributors to spend large sums of money pursuing the business opportunity. That push to recruit is a classic sign of a pyramid scheme.
The complaint alleges that 72 percent of AdvoCare's distributors lost money or earned nothing from the company and 18 percent earned between a penny and $250 a year. When these distributors' hefty costs are added, nearly all of them lost money.
Under a landmark settlement, AdvoCare and its former chief executive will pay $150 million for consumer refunds. They're also banned from all multi-level marketing. Two of AdvoCare's top promoters also have settled with the FTC for $4 million, most of which is suspended, based upon their inability to pay. They, too, are banned from multi-level marketing. The FTC's case against two other leading AdvoCare promoters is continuing.
The FTC will contact AdvoCare distributors whose losses may qualify them to get money back. The settlement also requires AdvoCare to notify its distributors about the case and remind them that AdvoCare offers a 100 percent refund for unused products to people who want to leave the business.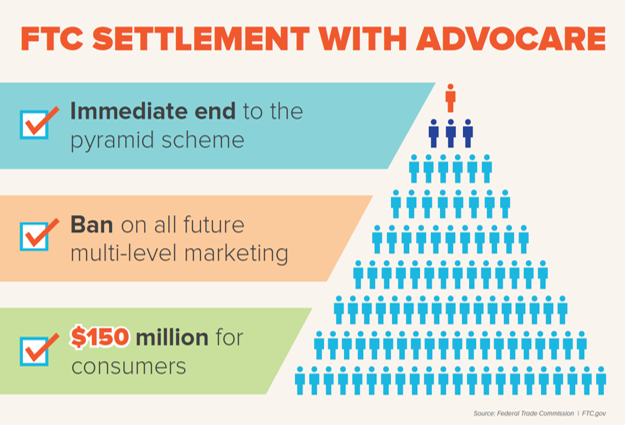 If you're tempted by a sales pitch that says you can make lots of money selling products to people you know, check out our consumer guidance for tips about spotting a pyramid scheme.
Don't fall for Business Opportunity Scams
We've verified, rated and reviewed the following companies and consider them to be among the best in the business opportunity field
When you deal with these companies you know you're in safe hands:
ScamReport.com is free to use because we may earn a commission when you use a service listed on our site.
Learn More.