Operators of alleged scheme claimed to be affiliated with the federal government and falsely promised to help reduce or even eliminate consumers' student loans
The Federal Trade Commission obtained a temporary restraining order halting an operation that bilked consumers out of millions of dollars by pretending to be affiliated with the U.S. Department of Education and falsely promising student loan debt relief.
The FTC's complaint against Arete Financial Group and several related companies alleged that the defendants used radio and television ads, as well as online ads and telemarketing calls in which they pretended to be affiliated with the Department of Education, to promise to enroll consumers in student loan forgiveness, consolidation, and repayment programs to reduce or eliminate their monthly payments and principal balances.
"Arete Financial Group charged illegal upfront fees and made false promises to consumers struggling with student loan debt," said Andrew Smith, Director of the FTC's Bureau of Consumer Protection. "To avoid scams like these, consumers should never pay an advance fee to a company promising to deliver debt relief."
The defendants allegedly charged illegal upfront fees as high as $1,800 when consumers agreed to use the defendants' services.
However, instead of delivering on the sweeping benefits they promised, operators of the scheme usually contacted a consumer's loan servicer to place the consumer's loans into temporary forbearance or deferment status, without the consumer's authorization or knowledge, according to the FTC's complaint.
The defendants are charged with violating the Telemarketing Sales Rule and the FTC Act.
The corporate defendants are: American Financial Support Services Inc.; Arete Financial Group (also doing business as Arete Financial Freedom); Arete Financial Group LLC; CBC Conglomerate LLC (also doing business as 1file.org); Diamond Choice Inc. (also doing business as Interest Rate Solutions); J&L Enterprise LLC (also doing business as Premier Solutions Servicing); La Casa Bonita Investments Inc. (formerly known as La Casa Bonita Investments LLC, also doing business as Education Loan Network, and Edunet); and US Financial Freedom Center, Inc.
The individual defendants are: Carey Howe; Anna Howe; Shunmin "Mike" Hsu; Ruddy Palacios (also known as Ruddy Barahona); Oliver Pomazi; and Jay Singh. In addition, the complaint names MJ Wealth Solutions, LLC as a relief defendant.

How to Avoid Student Loan Debt Relief Scams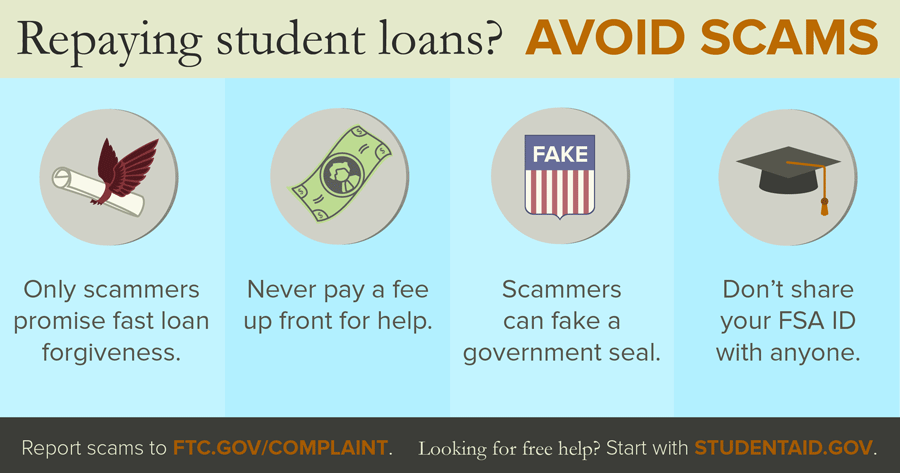 To help consumers avoid falling victim to such fraud, the FTC has consumer education materials related to student loan debt relief scams at ftc.gov/StudentLoans.
Only scammers promise fast loan forgiveness, and they often pretend to be affiliated with the government. Consumers should never pay an upfront fee for help, and should not share their Federal Student Aid ID with anyone.
Consumers can apply for loan deferments, forbearance, repayment, and forgiveness or discharge programs directly through the U.S. Department of Education or their loan servicer at no cost; these programs do not require the assistance of a third-party company or payment of application fees.
For federal student loan repayment options, visit StudentAid.gov/repay. For private student loans, contact the loan servicer directly.
Don't fall for Personal Finance Scams
We've verified, rated and reviewed the following companies and consider them to be among the best in the personal finance field
When you deal with these companies you know you're in safe hands:
ScamReport.com is free to use because we may earn a commission when you use a service listed on our site.
Learn More.