THESE ARE DANGEROUS TIMES FOR 401k & IRAs
Scam Report's

Our

FREE

Investor Kit Reveals How to Protect Your Money
AND Qualify for 5-10% in Free Silver Bullion to Help Safeguard Your Account!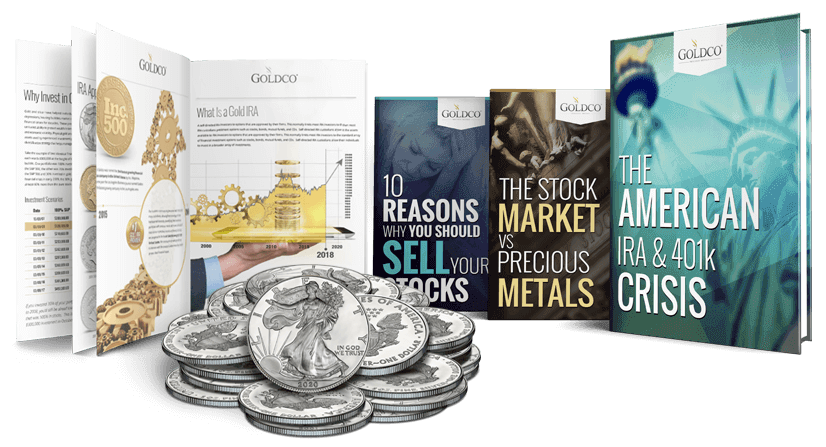 By clicking the Kit Request button, you agree to our
Privacy Policy
and authorize Goldco Precious Metals to contact you to arrange shipping. This call may be on a recorded line at the telephone or mobile number you entered and may utilize automated telephone technology including auto-dialers, and text messages, even if your telephone or mobile number is currently listed on any state, federal, or corporate "Do Not Call" list. No purchase is required.
These are truly worrying times for IRA and 401k account holders. Thanks to Covid-19 we're on the edge of this century's biggest financial meltdown - a coming disaster which is seeing investors flock to the safe-haven of Gold. Unfortunately for all Gold's proven wealth-preservation abilities, the gold industry is filled with scammers preying on the unwary.

This is why Scam Report are offering an Essential Gold Investor Kit designed to help gold buyers make sound decisions free from scams - and why we're delighted to partner with

Goldco Precious Metals

- the highest rated gold dealer in our Trusted Directory and one of the most trusted bullion brokers in the industry."
Chris Hansen, ScamReport.com
What's Inside Your Free Gold Investor Kit?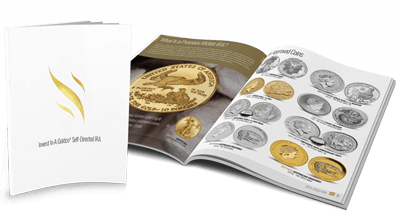 The Metals Investment Guide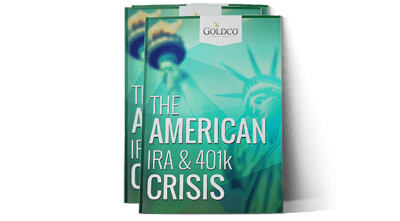 The IRA Crisis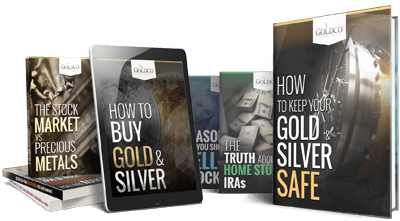 Instant Access to e-Guides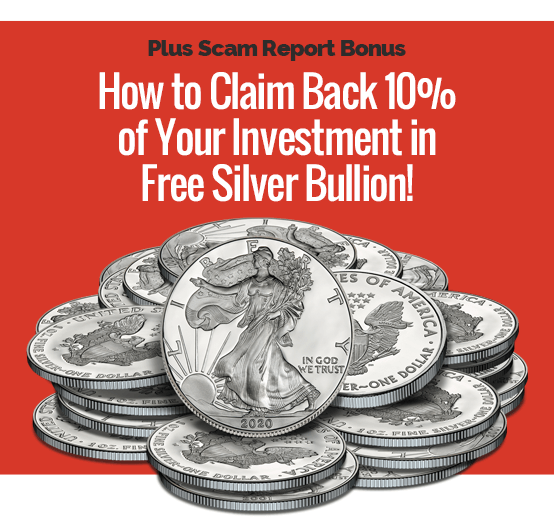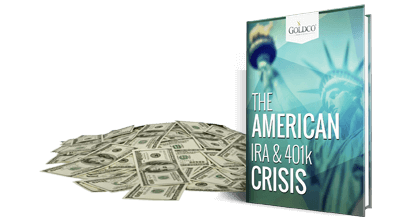 The IRA Crisis
Even before Covid-19 there was a major crisis brewing and getting worse every day – and yet very few people were aware of it.
If you're part of the "baby boomer" generation, it's something you really need to know about - because this crisis could cause your retirement savings to quite literally crumble to dust.
Even if you think you've got your retirement covered you're going to be horrified that not only are you wrong, but dead wrong. Everything you've carefully planned for and the hard-earned money you've put away is now at deathly risk.
But it's not too late and there are simple steps you can take to not only inoculate your account from this financial virus, but to grow your retirement nest egg into an investment powerhouse.
How? This Guide Reveals All.
The Gold Guide
Goldco's number one publication, The Gold Guide has helped more than 30,000 new investors make sense of an often confusing marketplace – while taking advantage of a little-known tax loophole.
From buying the right precious metals at the right prices, to saving money on world-class vaulting facilities and even avoiding an ever-growing list of common scams, this physical guide and it's accompanying eBooks should be essential reading no matter what stage you're at in your investment journey.
Written in easy to follow language by top analysts, bullion brokers and security experts The Gold Guide is express shipped direct to your doorstep.
Get an "unfair" advantage over other investors and order your free copy today.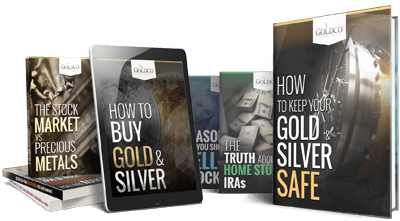 Instant Access to Award-Winning Investor e-Guides
Get unlimited access to a library of gold and silver investment guides and education materials from some of the biggest names in precious metals including:
How to Buy Gold and Silver
How to Sell Gold and Silver
The Stockmarket vs Gold and Silver
10 Reasons the Dollar Will Crash
How to Keep Your Gold and Silver Safe
The Gold IRA Handbook
Top Gold Coins for Your IRA
Top Silver Coins for Your IRA
5 Mistakes that Can Destroy Your IRA or 401k
Retirees Guide to IRA and 401ks
The Truth About Home Storage IRAs
10 IRA and 401k Mistakes You Are Making
5 Ways to Get the Most From Your IRA
Why Your IRA or 401k is Not Working
Enjoy lifetime access or download the guides to your computer – ALL for FREE
Goldco's gold investor kit is without doubt the best free precious metals education pack available. Here at Bullion.Directory we list over 1400 Bullion dealers, and most give away PDF guides or leaflets – but Goldco's physical pack is the only one we ever recommend to friends and family"
Al Macallister – Bullion.Directory
DISCOVER

HOW TO CLAIM

BACK

5-10% IN FREE SILVER!

To help further safeguard your retirement plan in these dangerous times, you can qualify for 5-10% in EXTRA stimulus silver when you open and fund a Gold IRA.

For example - open a $100,000 Gold IRA and receive $10,000 in FREE SILVER!
No Maximum ✓
The 10% back in FREE SILVER applies no matter how BIG the transaction. Open a Gold IRA with $1M, and receive $100,000 back in FREE SILVER!
Send It Anywhere ✓
Choose whether you want your FREE SILVER sent to your doorstep with FREE SHIPPING, or directly to your new Gold IRA.
We'll send full details on how easy it is to claim with your kit
Why Precious Metals?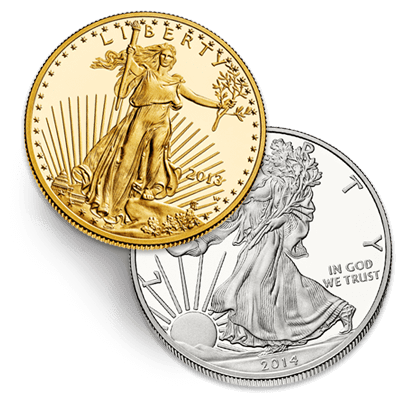 We could tell you about how gold has been used as a store of value across thousands of years, protecting generational wealth in times of conflict, wars and during all major financial crises.
We could give facts and figures about how gold has gained an annual average of 9% every year since 1974, how the market is buoyant and currently undervalued.
We could even display graphs like this, showing how gold has outperformed all other major asset classes since the turn of the century, with a return over 300% better than that achieved by the average investor:



Indeed we could do all of that and let gold sell itself as the incredible market hedge and portfolio diversification tool that it is – but given what Coronavirus is about to do to the markets there's something else gold does that's far more important than any long-term capital growth, profit or financial gain…

In a Word? Retirement.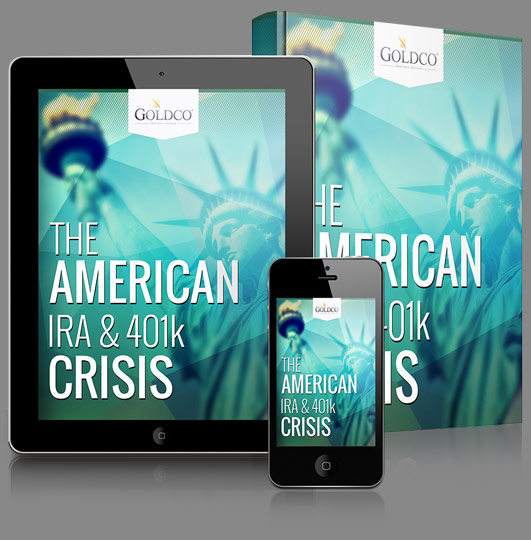 As you'll read inside The IRA Crisis, if you're an American or own any assets priced in US dollars, then you're staring down the barrel of what will be the biggest financial crisis America has ever faced.
We're not alone in our assessment. Even before Covid-19 some of the best-known names in financial analysis were horrified at what they had seen brewing in our retirement system, growing like a malignant tumor and feeding off the careful plans, hopes and dreams of ordinary Americans like me and you.
Unfortunately the trigger they had believed would come a year from now, is upon us and when this crisis truly erupts don't go looking for a bail out from the federal government – because when it comes to your 401k or IRA, they're the ones holding the gun.
This is why we're trying to warn and help as many American families as possible, because ALL of this is preventable – and two of the key components in the cure are gold - and silver.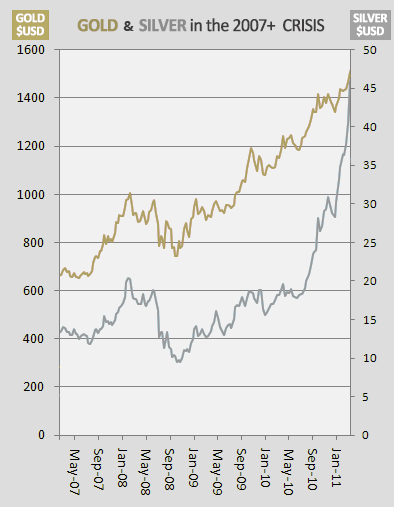 While the 2007-2008 financial crisis saw retirement accounts drop over 50% practically overnight when paper assets like stocks and bonds tanked, gold enjoyed a 166% gain from it's 2008 low to 2011 high, helping protect and stabilize smart investor's IRA accounts.
Silver added a 448% profit to investor pockets from market low to high over the same period.
Even if Covid-19 hadn't come along – our financial markets are still broadly cyclical. Over the past 50 years we've seen a crash or recession on average every 10 years, like clockwork.
We fell overdue the next crash back in 2018 and now with markets burdened with record levels of leveraged debt the Coronavirus could not have come at a worse time.
As markets tanked 20% in 3 days, the Fed knew in an instant there was no fixing this and the current gold stampede began.
Gold simply protects. The fact that you can buy Gold inside an IRA at a massive tax advantage is just the icing on the cake.
There is no precedence for the situation we are facing now. An epic battle of humanity trying to combat a new virus for which there is no cure and still no clear signal, a global asset price collapse at the end of an aging and highly indebted business cycle, and central banks with limited ammunition, desperately trying to regain and maintain control."


Sven Henrich, NorthmanTrader
Why Goldco Precious Metals?
Goldco are America's number one provider of tax-advantaged gold retirement plans.

Built on a strong ethical foundation, Goldco leads the field for customer care and efficiency – introducing wealth-preserving physical gold and silver into hundreds of IRA accounts each month.
After evaluating your needs, your Goldco advisor will take you step-by-step through the whole investment process, ensuring every element of the tax-saving transfer is both legal and safe.
From choosing a trusted IRS custodian to helping you select the most appropriate investments and arranging ultra-secure vaulting, Goldco is with you every step of your journey.

What Made Goldco Scam Report's Top Gold Investment Choice For 2020?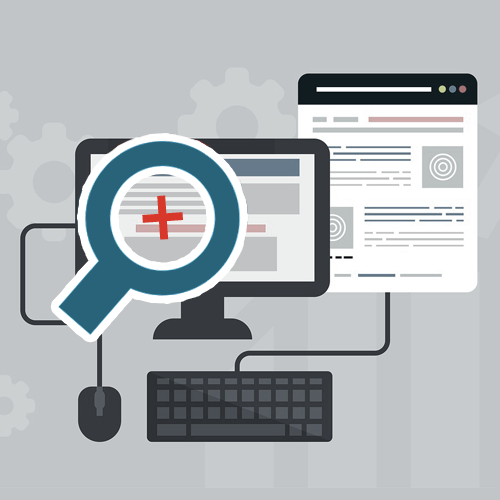 The precious metals investment market is cut-throat. It's a market we know well with two of our senior team having spent a combined 19 years working in the bullion investment field.
In this time we've learned all the dirty tricks used, hidden fees charged and sleight of hand shenanigans, even outright fraud that bullion dealers use to obtain maximum profit from naive investors.
In fact, of over 650 U.S. bullion dealers listed in the industry book, we've only added a handful to our Trusted Directory. And of that small handful of carefully vetted firms, there's one company we come back to again and again for their honesty, transparency and the quality of their customer care.
That's Goldco.
Our Goldco Rating - Quick Stats:
Why We Like Goldco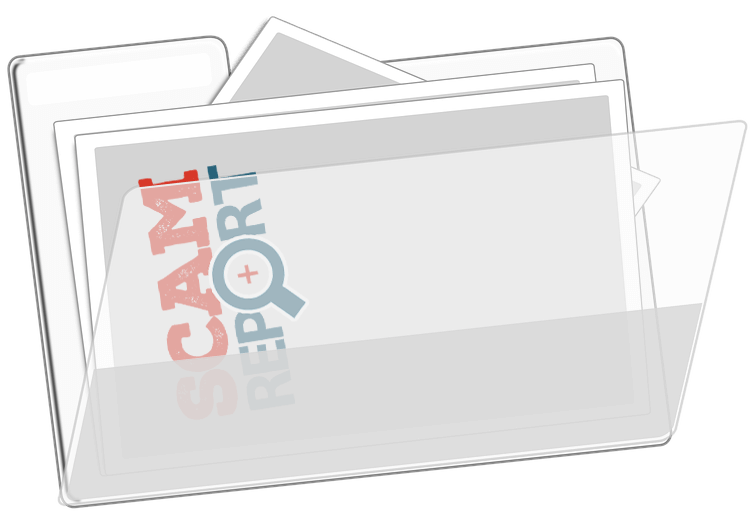 When carrying out our initial investigations into Goldco for their inclusion in our Trusted Directory, we were struck by how different their approach was to many other companies in the gold market.
Where rivals would hard-sell a particular investment (and we do mean HARD) Goldco showed a genuine dedication to customer care, being patient and taking time to find out what was most suited to our mystery shoppers' individual circumstances.
Our team repeatedly noted Goldco had advised against investments other bullion dealers were pushing - and in one instance even told our undercover reporter that precious metals would not be a good match for their needs.
We found everyone we dealt with were both highly knowledgeable and passionate believers in precious metals, investing heavily in the metals themselves, which is always a good sign. The several brokers we spoke to came from diverse industry backgrounds and had very different professional skillsets - but what shone through was an underlying honesty in what they were doing and a real desire to help.
Goldco may not be the biggest dealer or even the cheapest, but as true specialists we don't think they can be beat...
As a family man, I wanted to create a company that served families, with service that is ethical, respectful and customized to your unique needs. Ten years later, these principles have been the bedrock of Goldco's success"
Trevor Gerszt: Founder, Goldco Precious Metals
Goldco's Specialist Services
Goldco are a full-service company handling all aspects of the gold investment process for individuals and organizations - but they have three main services for which they receive top scores across industry ratings boards:
Gold IRAs and Gold 401k Rollovers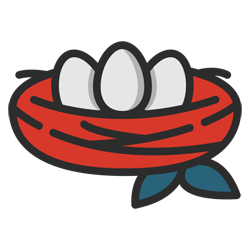 Goldco are best known for their specialist work with retirement accounts, helping clients set up, transfer or rollover to a Self-Directed IRA containing a percentage of physical precious metals.
This is particularly useful for clients looking to diversify or de-risk their 401k or IRA thanks to gold's longstanding use as a hedge against market crashes.
In our current geo-political climate it's never been more important to not keep all your investment eggs in a single basket such as stocks and shares. As a recent example of gold proving it's true worth, in the 2008 crash when millions of retirement accounts lost over half their value - gold soared in price - helping insulate accounts from crippling losses.
Goldco's excellent free Investment Kit explains the step by step process and multiple benefits gold IRAs hold from their built-in tax efficiency to acting as an added layer of security.
For those considering a Gold IRA, Goldco are offering a time-limited 10% Extra Free Silver Bullion voucher with every IRA form filled.
Portfolio Help and Asset Diversification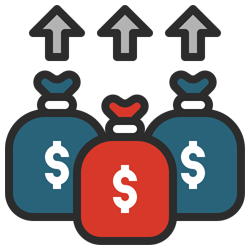 For those not looking to buy gold in a tax-efficient IRA, Goldco provide expert advice with investment portfolio diversification.
Their highly experienced team and qualified advisors can offer one-on-one help in assigning a weight of gold and other precious metals to any portfolio based on client needs, goals and risk appetite.
Freecall

(877) 460-2824

for no-obligation help with your investments today.
Ultra Secure Bullion Storage and Vaulting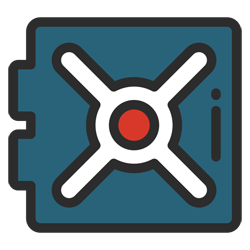 Whether as part of a Gold IRA, or for clients with bullion portfolios, Goldco works with leading American vaulting facilities.
Professional bullion vaulting provides the ultimate in insured specialist security for any precious metals investments, completely eliminating the serious risk of theft involved with home storage.
Your comprehensve storage information guide is included in our free investor kit.
Goldco's Winning Approach
The precious metals industry is highly competitive, working on very tight profit margins. To win new customers, many dealers have found themselves in a desperate race to the bottom, cutting costs, making impossible promises and in several highly public cases going so far as committing actual fraud.
Cutting every penny hurts both the customer through poor service and the company's health. In the past 6 years, eight major bullion dealers have gone bankrupt or been closed down by the CFTC, owing their customers tens of millions of dollars and tying up client gold in years of legal fighting.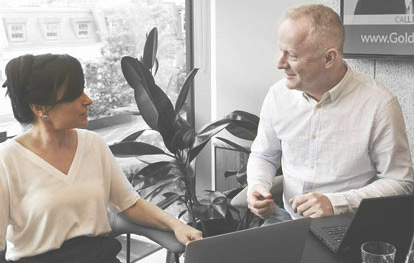 Goldco on the other hand seem to be taking the stance that offering their clients the best possible service is the only way forward. While they may be a single penny on the dollar more expensive than their lowest budget rivals, what they can offer in quality of service far outstrips that negative.
Where competitors' cost-cutting sees their commission-only sales teams trying to squeeze every penny out of every call - Goldco's focus is on building a strong family of experts, paid fairly and properly valued for their market knowledge.
This ensures every customer always receives the right advice for their situation - not a hard sell for whatever pays most commission.
It's little wonder Goldco are consistently rated top in the US market, winning a slew of bullion industry awards for client care.
Don't just take our word for it…
Rated A+ with the BBB and awarded 5 stars at every major consumer review site, Goldco regularly win industry awards including Bullion Dealer of the Year at Bullion.Directory – winning their top spot in the highly competitive Gold IRA sector.

I have talked to other precious metal companies and I talked to Kevin Troy from Goldco.

After talking with Kevin, in great detail about buying precious metals, I felt very assured, that it was the right thing to do at this time. The process at Goldco's end was very easy and everyone at Goldco was very professional."
Jeanette – North Palm Beach, FL
★★★★★
I am a first time buyer, with absolutely no experience in buying precious metals. I wanted to diversify my 401K so I would have some insurance against my stock portfolio. The staff at Goldco made it a simple 1, 2, 3 process. The staff was courteous and responsive and most important, knowledgeable! Their service was prompt. I look forward to working with them in the future, should I decide to purchase more gold and silver or sell my existing investment."
Richard – Oceanside, CA
★★★★★
I can only say my experience was absolutely great. Everything was explained to me in detail to where I understood exactly what was going on with my investment from start to finish. The team at GoldCo are extremely informative and answered any questions I had with no problems. I was updated on constantly and found that to be an asset to me to know what was going on at all times. I liked the convenience of being able to call with any questions no matter what it was, it was answered to my satisfaction."
Melissa – Memphis, TN
★★★★★
I have been reviewing my options dealing with my inherited IRA and heard of gold on the radio. After researching companies on the internet, I made the inquiry to Goldco. They were prompt but not pushy (I own my sales company with 10 employees). When I decided to make the move, the people here are first class in helping answer questions, setting up paperwork, and recommending the types of coins available with knowledgeable information backing their choices. Having diversified into precious metals has balanced my portfolio with my other traditional IRA investments."
Gerald – Casper, WY
★★★★★
I've bought gold coins from Goldco on three separate occasions. Silver coins too. All told about a dozen phone calls were required. All of the "busy work" like calling my broker and arranging money transfers and filling out paper forms were handled by Goldco. Each time my questions were answered – first by Mr. McFarlane and later by Mr. Katz – in a courteous and straight forward manner. I was well pleased."
William – Warner Robins, GA
★★★★★
I just completed my second transaction with GoldCo as part of a roll-over IRA. Once again, the process was handled very professionally.

My account executive and his associates have been very patient, courteous and helpful. I highly recommend this company."
Thomas – Middletown, CT
★★★★★
Take Advantage Now - Claim Your Free Kit
& Coins
Your Free Package Could Be On Your Doorstep In As Little As 2 Days!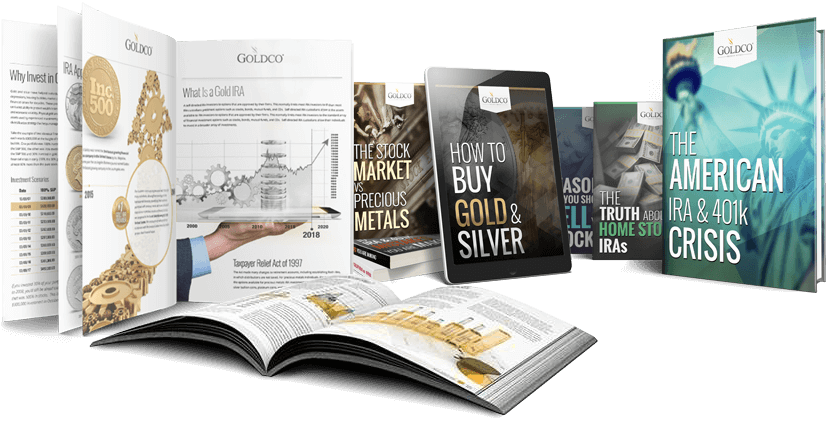 ORDER YOUR KIT TODAY
*By clicking the Kit Request button, you agree to our Privacy Policy and authorize Goldco to contact you to arrange shipping. This call may be on a recorded line at the telephone or mobile number you entered and may utilize automated telephone technology including auto-dialers, and text messages, even if your telephone or mobile number is listed on any state, federal, or corporate "Do Not Call" list. For kit, no purchase is required.
FREE SILVER BULLION COINS: available when you open, transfer or rollover a Goldco Gold IRA account and purchase gold bullion. Minimum purchases apply. No maximum purchase volume. Further details will be sent in kit welcome email, or by calling Goldco on (877) 460-2824.